| | | |
| --- | --- | --- |
| JEP Business 2016 | | |
The Junior Entrepreneur Programme (JEP) is a 10 - 16 week entrepreneurial education programme for primary school pupils. This innovative programme opens the minds of the pupils to the joy of entrepreneurship at a time in their lives when they are full of imagination and open to new possibilities. The programme helps participating pupils to develop a number of skills including literacy, writing, presentation, drawing, technology, research skills, numeracy, financial, consumer awareness, storytelling, listening skills, creative thinking, problem solving, team building and collaboration skills.
The programme has a significant personal development impact on participating pupils, building confidence, self-awareness and self-esteem, and an appreciation of individual skills and talents.
A few weeks ago the JEP was launched in Mr. Moloney's 6th class. Firstly, they discussed what an entrepreneur was, and listed what characteristics and skills would be necessary to be a successful entrepreneur. The pupils then broke into 4 groups and listed and discussed ideas for a class project. Each group presented their project to the 'Dragons' who put them through their paces and after some deliberation chose the project which they felt had the most potential for the whole class to get involved in.
The winning project:- 'Let's Make & Bake' Cookbook - The pupils have been very busy requesting and receiving recipes from parents, staff, family friends and various celebrities over the past few weeks.
This will definitely be a 'Must Have' cookbook!
| | | |
| --- | --- | --- |
| Tralee Credit Union Quiz 2016 | | |
8 pupils (2 teams of 4) will represent Holy Family School in the Credit Union School Quiz 2016 after an in-school competition held over the past few weeks. Both teams will compete in the U-13 competition which will be held in the Brandon Hotel on Sunday next, 31st January at 1.00 p.m. sharp.
Team 1: Alan O' Connor, Cillian Lynch, Daniel Osayrhion and Joshua Quilter
Team 2: Sabhadh McMahon, Ben O' Brien, James Charles and Louis Tobin Monaghan
Best of Luck on the day!
| | | |
| --- | --- | --- |
| Credit Union Poster Competition 2015 | | |
Congratulations Fionn!
Fionn won 1st place in the 8-10 yrs. category of the 2015 Credit Union Art Competition Stage 1 (local).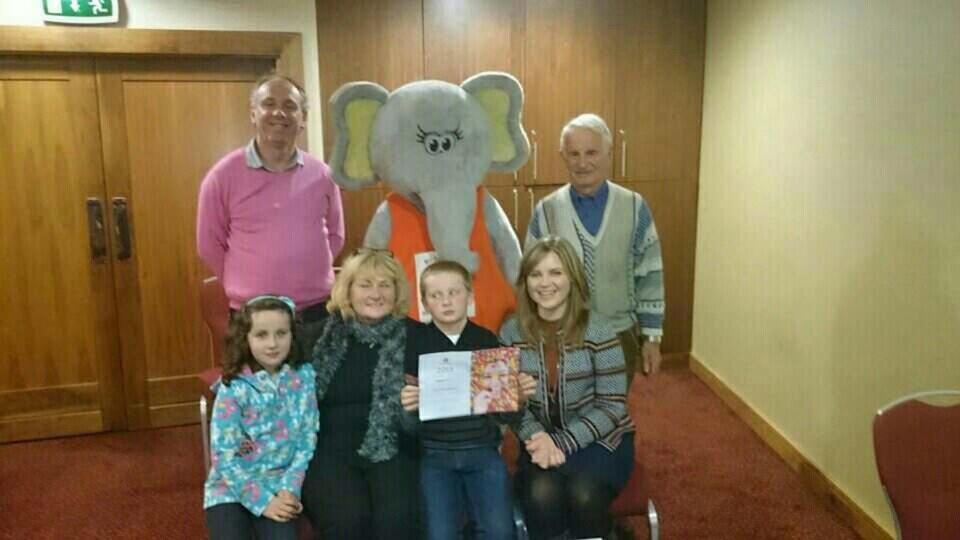 Fionn also received a Certificate of Commendation of High Merit in Stage 2 (Regional - Chapter 23)of the competition.
The theme of the 2015 Credit Union Art Competition is 'Happiness is…'
The competition is about encouraging and rewarding self expression, creativity and imagination among young artists throughout Ireland.
The competition requires entrants to draw or paint posters on the theme using pencil, charcoal, pen or ink, felt-tip markets, crayon, pastel, water colours, gouache, acrylics, oils, poster colour or collage.
| | | |
| --- | --- | --- |
| Celebration of Christmas 2015 | | |
| | | |
| --- | --- | --- |
| Science Week | | |
National Science Week is an annual celebration of science and technology and thousands of individuals – from students to scientists get involved, taking part in many science events across the country.
Science Week is designed for everyone – it's definitely not restricted to schools and universities – with events and activities and talks and shows for every age group. It provides an opportunity to acknowledge the contributions of scientists' to the world of knowledge. It also aims to encourage an interest in science pursuits among the general public, and to encourage younger people to become fascinated by the world we live in.
Holy Family School pupils enjoyed a week of science experiments. Go to Gallery for more pictures!
<< Start < Prev 1 2

3

4 5 Next > End >>


Page 3 of 5