| | | |
| --- | --- | --- |
| ADAM BUGGY ANNUAL WALK | | |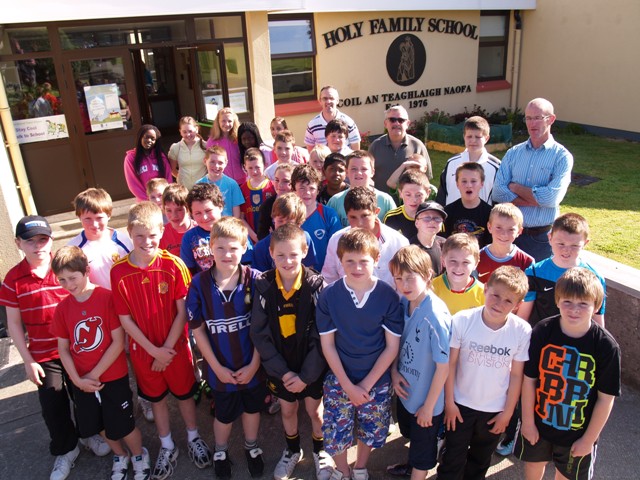 (SEE PHOTO GALLERY FOR MORE PHOTOGRAPHS)
WALK IN ADAM'S MEMORY
On Friday, June 3rd, forty five boys and girls under the guidance of Mr. Ó Conchúir, Mr. O' Sullivan and Mr. Lyons left Holy Family School to take part in the 16th annual charity walk which this year commemorated the memory of Adam Buggy, a former pupil of Holy Family School.
Read more...
| | | |
| --- | --- | --- |
| INCREDIBLE EDIBLES 2011 | | |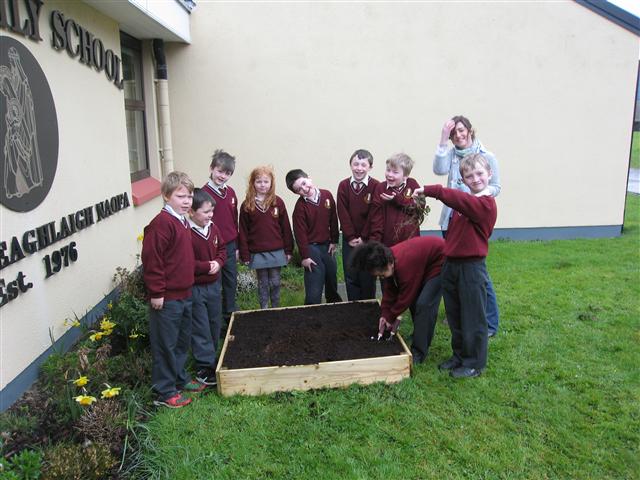 Now in its third year, the Incredible Edibles Programme has evolved from pots in the classroom to plots on the school grounds, enabling children to grow potatoes, lettuce, carrots, turnips and strawberries.
Ms. Shanahan's 2nd Class in Holy Family School became involved in this healthy living initiative called the Incredible Edibles Growing and Knowing Challenge. This is about encouraging children to grow their own fruit and vegetables and increasing their consumption of same. Learning about food origin and the work of farmers through hands-on experience enables children to appreciate how food gets from farm to fork.
"We planted lettuce, turnips and carrots in biodegradable pots in the classroom. Once the seeds began to grow into plants they were transplanted outdoors. We also planted strawberry plants and potatoes. The pupils are enjoying the whole experience of looking after the plants as they grow and can't wait to taste the final product", said Ms. Shanahan.
For more information: http://www.agriaware.ie/index.php?page=incredible_edibles
For more photographs go to Photo Gallery (INCREDIBLE EDIBLES PROJECT 2011)
| | | |
| --- | --- | --- |
| WINNERS OF THE INTO MINI 7'S COMPETITION 2011 | | |
MATCH REPORT
Holy Family School entered one boys team into the INTO Mini Sevens competition which was held in John Mitchel's Ground on Tuesday, March 29th. All the qualifying round games were of 14 minutes duration – 7 minutes aside.
Holy Family played long time rivals CBS in their opening game and while they won that game 1 -7 to no score it was not as easy as the score might suggest. The second game was played against Scoil Eoin. Again Holy Family School were victorious winning by a 1 – 5 to no score margin. Their third and final game of the qualifying rounds was pitted Holy Family School against Moyderwell. While Moyderwell had lost to CBS and HFS had beaten CBS nothing was being taken for granted in this tense decider. Were HFS to win they would be outright winners while if they lost there would be a 3-way play-off. It looked for long stretches of this game that HFS might bring home the sports but a goal and 2 points scored in the space of 2 minutes near the end of the game gave victory to Moyderwell. Moyderwell's luck was truly in when they were first out of the hat to receive a bye into the final. They left CBS and HFS to fight it out.
Read more...
| | | |
| --- | --- | --- |
| GLOBAL PHARMACEUTICAL CENTRE OF EXCELLENCE | | |
On Monday, 7th March the pupils of 5th and 6th classes attended a presentation about the G.P.C.E. in the school hall. The presentation given by Gillian Wharton Slattery and Mike Moriarty outlined how such a large industry, with the creation of 5,000 jobs by 2013, would greatly benefit Tralee town and surrounding areas.
The pupils were asked to design a poster based on the theme "Our future is in your hands", to be displayed at the Kerry County Council Building with art work from other local schools.
After much thought and effort the pupils produced this fantastic poster below. Well done to all who took part!
______________________________________________________________
| | | |
| --- | --- | --- |
| BOARD GAME PLAYING DAY | | |
Friday, October 22nd was Holy Family School Game Playing Day which was part of National Game Playing week. This is an annual event designed to encourage friends and families to spend time together. All pupils from 2nd to 6th classes were asked to bring along their favourite board game to play during class with their friends on Friday afternoon. The pupils had lots of fun as well as learning many skills including patience, problem solving, social skills, creativity and perseverance.
Read more...
<< Start < Prev 11

12

Next

>

End

>>


Page 12 of 12